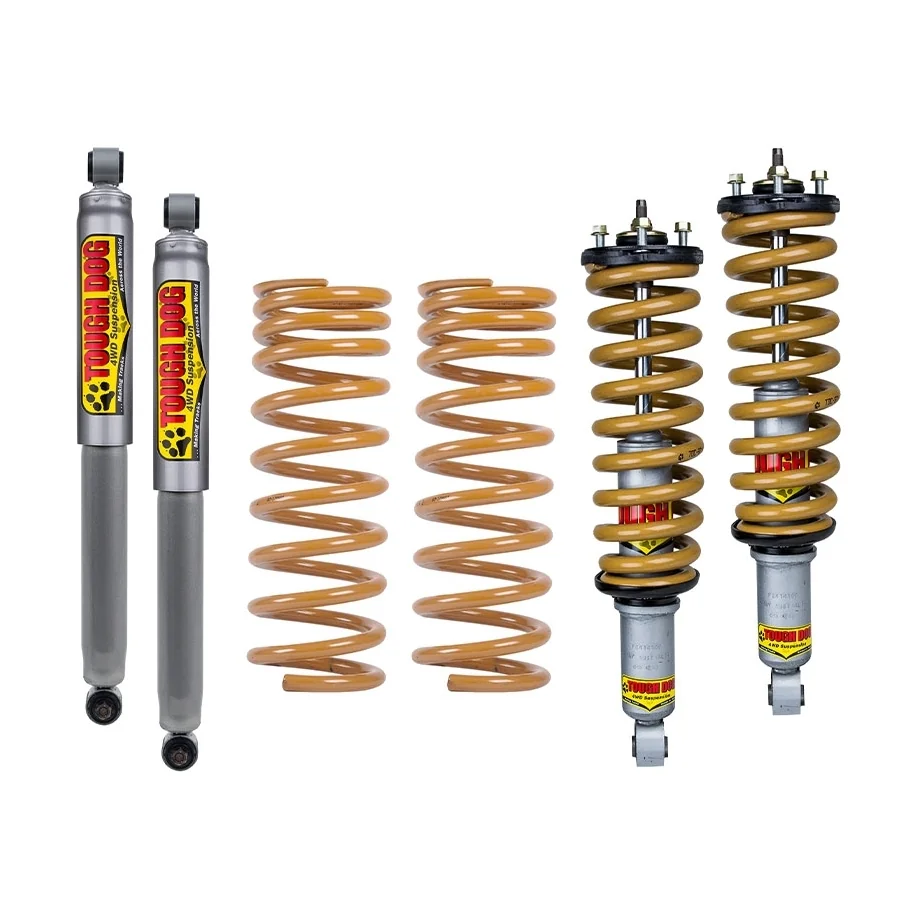 
Toyota Prado 150 Series SWB (2010 on) - Tough Dog 41mm Foam Cell Lift Kit - Preassembled Struts
Type: Prado
Model: 150 Series SWB
Year: 2010 on
Suspension Type: Coil Spring Front / Coil Spring Rear
Front Lift: 40mm
Rear Lift: 40mm
Detail: 41mm Internal Bore Foam Cell
Front Preassembled Struts & Coils
---
The kit contains:
2x Tough Dog 41mm Foam Cell - Front Preassembled Strut & Coils
2x FC41118 - Tough Dog 41mm Foam Cell Rear Shocks
1x TDSP-012 - Sway Bar Spacer Kit
2x Tough Dog Rear Coil Springs
Recommended Upgrades:
1x TDCA-005 - Upper Control Arms
1x TDAA-009 - Coil Insert Airbags
Calculate Shipping Cost
Shipping:
0
Postcode via
Delivery address is residential
---
Type: Prado
Model: 150 Series SWB
Year: 2010 on
Suspension Type: Coil Spring Front / Coil Spring Rear
Front Lift: 40mm
Rear Lift: 40mm
Detail: 41mm Internal Bore Foam Cell
Front Preassembled Struts & Coils
---
Foam Cell Shock Absorbers
Tough Dogs award winning Foam Cell shock is our best selling shock for all round performance. Whether you head bush on the occasional weekend or for the majority of the year, Foam Cell shocks will handle your application.
Features:
Twin tube design
High temperature, all weather oil
18mm, double chrome-plated rod
Additional welding on all studs & eyerings
Multi stage Velocity Sensitive Valving
Rod wiper seal and multi lip seal
Hydraulic rebound stop
4 Year / unlimited km Recreational warranty (Conditions Apply)
3 Year / unlimited km Commercial warranty (Conditions Apply)
---
Upper Control Arms
When an IFS vehicle is fitted with a suspension lift, the original caster and camber specifications are pushed outside the acceptable limit. The vehicle loses caster which makes the steering vague, and positive camber is introduced, which contributes to uneven and accelerated tyre wear. Tough Dog Upper Control arms can help get the maximum performance and lifediv from your suspension and steering components.
This Vehicle Part No: TDCA-005
---
Coil Insert Airbags
When carrying varying loads or heavy towing, Air Assist coil insert kits can help level off vehicles. By increasing the air pressure, the coil insert kit increases the effective spring rate and levels the vehicle. The high pressure bag is inserted inside the coil spring and assists the coil spring when necessary.
This Vehicle Part No: TDAA-009
---
Important Notes for setting up your Vehicle Correctly:
When selecting Springs to suit your lift, please Select Springs only to suit Current "CONSTANT" Loads Front and Rear.
Towing Loads are not included in your Constant Load Calculations, as they are not "Constant" Loads.
Please do not put Occasional Loads into your "Constant" Load determinations.
Selecting a load rating that is too heavy for your setup will result in Poor Flex Off-Road, Compromised Suspension Travel & Rough Ride, and will cause damage to your new shock absorbers and other components by pushing them outside of their intended range.
Please Note:
All lift heights stated are estimated lift heights, due to the large number of variables in each different vehicles setup and accessories.
No customer reviews for the moment.
8 other products in the same category: