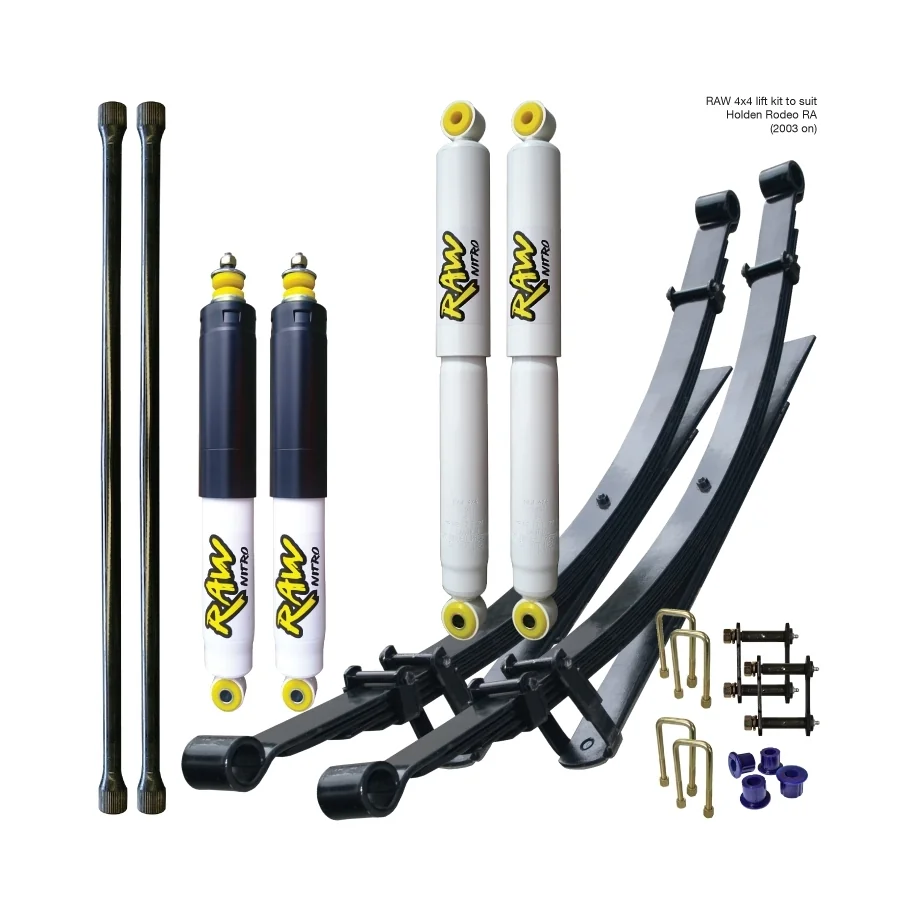 
Holden Rodeo RA (03/2003 on) - Raw Nitro Lift Kit
Type: Rodeo
Model: RA
Year: 03/2003 on
Suspension Type: Torsion Bar Front / Leaf Spring Rear
Front Lift: 40mm
Rear Lift: 40mm
Detail: Ute / Dual Cab
Heavy Duty - Nitro
35mm Bore Nitrogen Gas Charged
---
The kit contains:
2x Raw Torsion Bars TB1550 - (Length - 1144mm)
2x G6833BY - Raw Nitro Front Shocks
2x G6010Y - Raw Nitro Rear Shocks
2x Raw Rear Leaf Springs
1x BSK1004 - Mounting kit for leaf springs
---
Mounting kit contains:
4x U-bolts
2x Shackle hangers
1x Poly Bush kit - Rear spring front eye
1x Poly Bush kit - Rear spring lower rear eye & upper rear shackle
Calculate Shipping Cost
Shipping:
0
Postcode via
Delivery address is residential
---
Type: Rodeo
Model: RA
Year: 03/2003 on
Suspension Type: Torsion Bar Front / Leaf Spring Rear
Front Lift: 40mm
Rear Lift: 40mm
Detail: Ute / Dual Cab
Heavy Duty - Nitro
35mm Bore Nitrogen Gas Charged
---
Nitro: Heavy Duty Shocks & Struts
Combining an expanded body for extra oil capacity and nitrogen gas for additional cooling purposes. RAW Nitro shock absorbers will outlast many of its well-known rivals at a competitive price.
Well suited to the recreational 4WDer who is looking to lift the vehicle and improve overall suspension performance.
Features
Increased bore size reducing internal operating pressure for a longer lasting shock
High performance oil for consistent performance in all types of conditions
HNBR seal with wiper lip designed to keep dust and grime out
Large body for extra capacity
Highly charged nitrogen gas to resist shock absorber fade
Struts
Large heavy duty bore size
HNBR seal with wiper lip designed to keep dust and grime out
Bonded rubber lower bushes for extra articulation & longevity
Hardened polished chrome rod to improve longevity and seal wear
Re-coil cut off to avoid internal shock absorber damage at full articulation
Highly charged nitrogen gas to resist shock absorber fade
---
Important Notes for setting up your Vehicle Correctly:
When selecting Springs to suit your lift, please Select Springs only to suit Current "CONSTANT" Loads Front and Rear.
Towing Loads are not included in your Constant Load Calculations, as they are not "Constant" Loads.
Please do not put Occasional Loads into your "Constant" Load determinations.
Selecting a load rating that is too heavy for your setup will result in Poor Flex Off-Road, Compromised Suspension Travel & Rough Ride, and will cause damage to your new shock absorbers and other components by pushing them outside of their intended range.
Please Note:
All lift heights stated are estimated lift heights, due to the large number of variables in each different vehicles setup and accessories.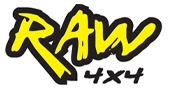 Data sheet
Make

Holden

Model

Rodeo RA

Year

2001 to 2010

Brand

Raw 4x4

Looking for

Full Lift Kit

Kit Type

Raw Nitro
No customer reviews for the moment.
1 other product in the same category: