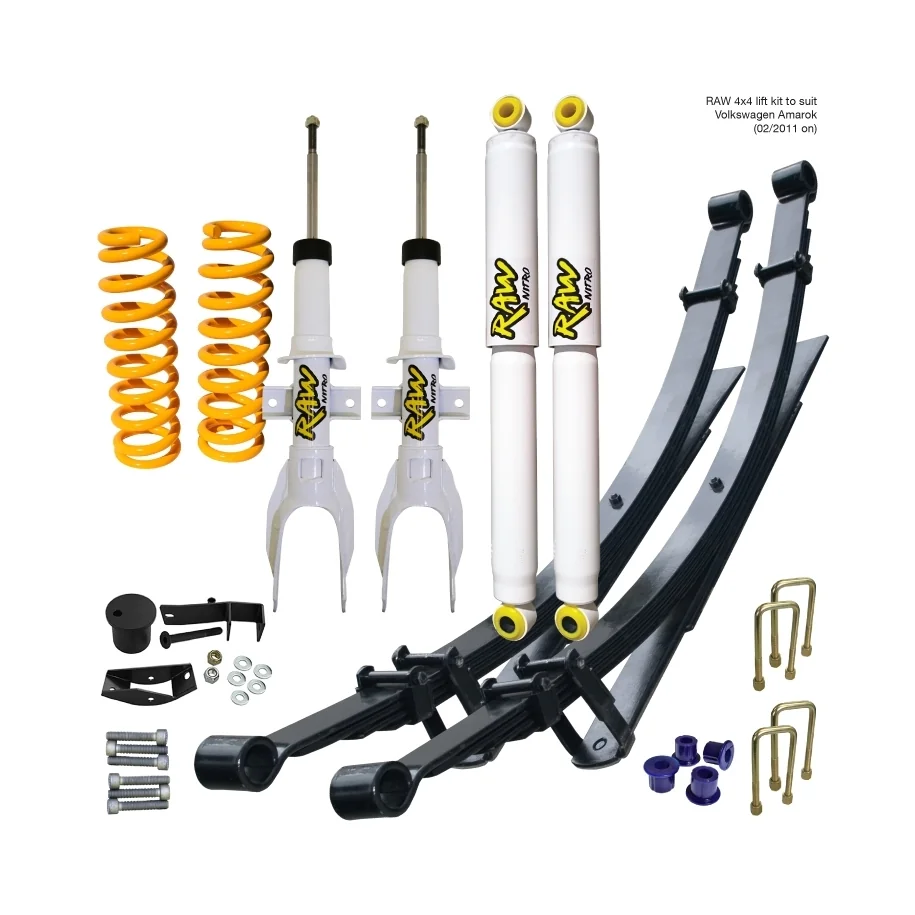 
Volkswagen Amarok (02/2011 on) - Raw Nitro Max Lift Kit - 50mm Lift
Type: Amarok
Year: 02/2011 on
Suspension Type: Coil Spring Front / Leaf Spring Rear
Front Lift: 50mm
Rear Lift: 50mm
Detail: Ute / Dual Cab
Extra Heavy Duty - Nitro Max
45mm Bore Nitrogen Gas Technology
---
The kit contains:
2x Front Coil Springs
2x G61063 - Raw Nitro Max Front Shocks
2x M1102K - CV Replacement Bolt Kit
1x M1103K - Diff drop kit
2x G6012M3Y - Raw Nitro Max Rear Shocks
2x Rear Leaf Springs
1x Mounting kit for leaf springs:
BSK1037 - Mounting kit for leaf springs
---
Mounting kit contains:
4x U-bolts
1x Poly Bush kit- Rear spring rear eye
1x Poly Bush kit - Rear spring front eye
1x Poly Bush kit - Rear spring upper shackle
Calculate Shipping Cost
Shipping:
0
Postcode via
Delivery address is residential
---
Type: Amarok
Year: 02/2011 on
Suspension Type: Coil Spring Front / Leaf Spring Rear
Front Lift: 50mm
Rear Lift: 50mm
Detail: Ute / Dual Cab
Extra Heavy Duty - Nitro Max
45mm Bore Nitrogen Gas Technology
---
NitroMax: Extra Heavy Duty Shocks & Struts
Specifically designed for heavy coil sprung and torsion bar vehicles, Nitro Max uses a proven truck shock absorber design with highly tuned valving for 4 x 4 applications carrying heavy loads and travel demanding terrain.
Recommended for vehicles used in mining, long distance touring, towing and heavy duty applications.
Features
Strong construction build to last
360° welds with one piece eye rings and machine welded end caps for increased strength and durability.
Deep penetrating structural welds for stronger construction
Body and shield made of strong steel construction with extra thick tube for added endurance and strength
Engineered for Performance
Nitro Max achieve enhanced performance and longevity through:
Larger external body size
Low pressure nitrogen gas charged to resist fade
Improved dampening
High temperature oil
Seals resistant to elevated temperatures
Hydraulic stop at fully extended
---
Important Notes for setting up your Vehicle Correctly:
When selecting Springs to suit your lift, please Select Springs only to suit Current "CONSTANT" Loads Front and Rear.
Towing Loads are not included in your Constant Load Calculations, as they are not "Constant" Loads.
Please do not put Occasional Loads into your "Constant" Load determinations.
Selecting a load rating that is too heavy for your setup will result in Poor Flex Off-Road, Compromised Suspension Travel & Rough Ride, and will cause damage to your new shock absorbers and other components by pushing them outside of their intended range.
Please Note:
All lift heights stated are estimated lift heights, due to the large number of variables in each different vehicles setup and accessories.
No customer reviews for the moment.
3 other products in the same category: