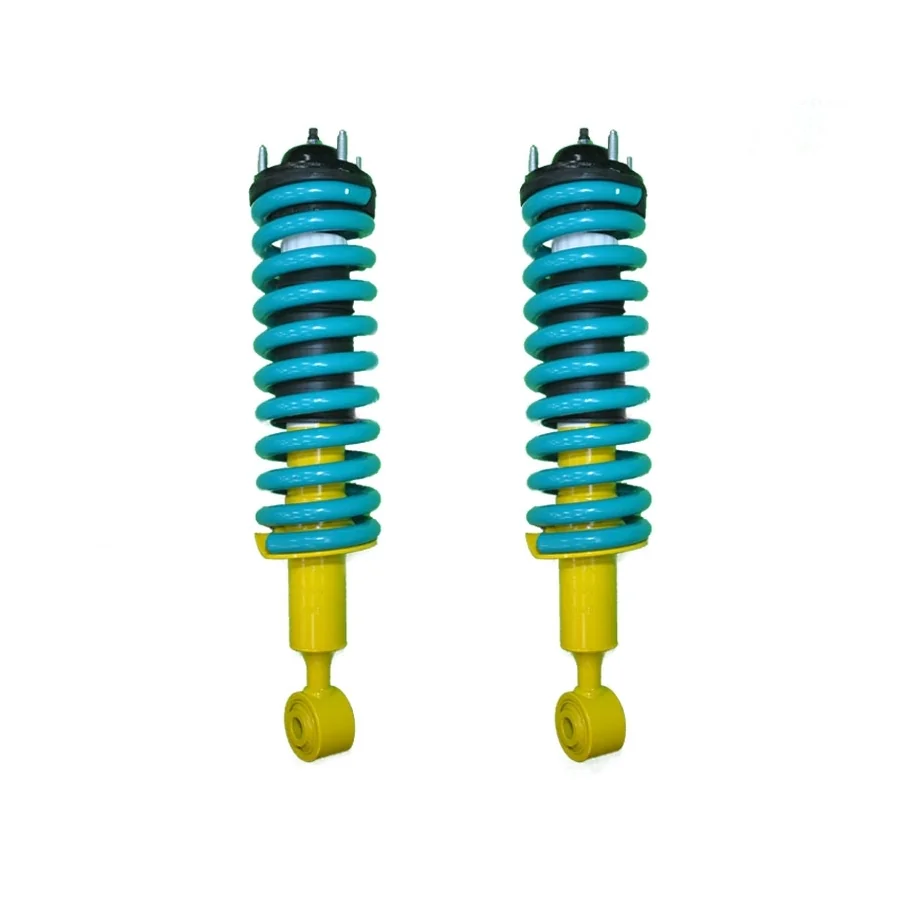 
Toyota Hilux N80 (2015 onwards) - Dobinsons Twin Tube Nitro Gas Front Lift - Preassembled Struts
---
The following parts are currently out of stock:
UCA59-203K - Forged Aluminium Upper Control Arms (Pair) Adjustable Camber Increased Castor With Ball Joint
UCA59-203K are due back in stock soon.
If you are still interested in ordering your kit with these parts please call to confirm the parts are back instock or check to see if we have an ETA on new stock.
---
Type: Hilux
Model: N80 Revo - KUN/GGN/GUN 125, KUN/GUN 126, GUN13
Year: 2015 onwards
Suspension Type: Coil Spring Front
Front Lift: 45mm
Detail: 4x4
---
The kit contains:
2x Dobinsons Front Coil Springs 
2x GS59-228 - Twin Tube Nitro Gas Front Shock absorbers
Coil and Strut Assembly with new strut tops SC59-001 - Strut tops
Optional Upgrades:
1x UCA59-003K - Upper Control Arm - (Pair) Chrome-Moly Tubular 3º Castor Built In Rubber Bushes with Ball Joint
1x UCA59-203K - Upper Control Arm Forged Aluminium - (Pair) Adjustable Camber & Castor Rubber Bushes With Ball Joint
Calculate Shipping Cost
Shipping:
0
Postcode via
Delivery address is residential
---
Type: Hilux
Model: N80 Revo - KUN/GGN/GUN 125, KUN/GUN 126, GUN13
Year: 2015 onwards
Suspension Type: Coil Spring Front
Front Lift: 45mm
Detail: 4x4
50mm Lift (2")
---
Twin Tube Nitro-Gas
Designed, developed and tested in Australia by Dobinsons Spring & Suspension, in house suspension design engineers, Dobinsons 4x4 shock absorbers are designed and tested to perform in the harshest conditions right across the world.
As Dobinsons Spring and Suspension export to over 40 countries worldwide from their Australian head office, the importance of quality is at the forefront in the complete design and manufacturing process. This ensures every shock can withstand the blistering heat and corrugations of the Australian outback right through to the subzero temperatures of a Russian winter.
Features:
Nitrogen Gas Charged
Superior Design
High Quality Parts
Manufacturing Process
Specifications:
Direct Bolt-In O.E Replacement
35mm & 32mm Bore Size
Double Chromed 18mm Rod
60mm & 51mm Body Size
High Quality Fuch's Oil
NOK Multi-Lip Seals
Teflon Piston Rings
Twin Tube Big-Bore Design
Vehicle & Weight Specific Valving
Natural Rubber Bushings
---
Important Notes for setting up your Vehicle Correctly:
When selecting Springs to suit your lift, please Select Springs only to suit Current "CONSTANT" Loads Front and Rear.
Towing Loads are not included in your Constant Load Calculations, as they are not "Constant" Loads.
Please do not put Occasional Loads into your "Constant" Load determinations.
Selecting a load rating that is too heavy for your setup will result in Poor Flex Off-Road, Compromised Suspension Travel & Rough Ride, and will cause damage to your new shock absorbers and other components by pushing them outside of their intended range.
Please Note:
All lift heights stated are estimated lift heights, due to the large number of variables in each different vehicles setup and accessories.
No customer reviews for the moment.